Milby Takes the Win at Kentucky Lake
Ted Milby of Greensburg, Kentucky won the American Bass Anglers Kentucky Open Series event, held 4/15/18 on Kentucky Lake. Running out of Paris Landing near Buchanan, TN, Milby brought back a five-fish limit that locked in the scales at 22.01 pounds. Ted took home $5,000 for his victory.
"I started out flipping a jig in the area I was fishing. Once the jig bite went away I picked up a spinnerbait and went to work to finish out my limit. Later in the day I was able to cull a few times. "stated Milby.
Second place for the boaters went to Brent Anderson from Kingston, Springs Tennessee. He landed five fish weighing in at 21.53 pounds. Anderson was awarded $500 for his catch.
"I went to spawning areas and threw a bunch of different types of plastics at them. The water temp was pretty good for what I was doing. I just went in there fishing real slow and ended up catching 20 keepers today. " stated Anderson.
Billy Schroeder from Paducah, Kentucky took third place with 18.40 pounds. Schroeder took home a check for $300 for his fish.
In fourth place for the boaters, Sam Lashlee from Camden, Tennessee weighed in 17.97 pounds and rounding out the top five was Charlie Craycraft with a weight of 17.42 pounds.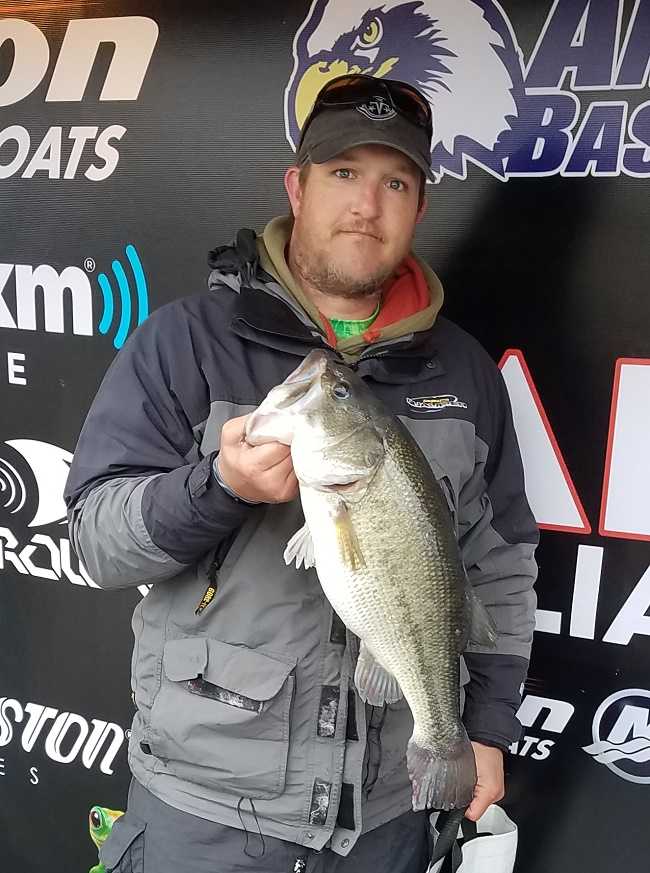 Big Bass among the boaters was brought in by Adam Craig from Buchanan, Tennessee. He finished the tournament in 12th place with one fish that weighed 7.61 pounds, but it was enough to take the big bass award of $310.
In the co-angler division, David Widman of Mount Washington, Kentucky took the win with two fish weighing in at 11.17 with a 6.14 kicker. Widman earned $1,000 for the win.
"I threw asenko most of the day and landed my biggest one. Then I picked up my cranking rod to catch the other fish. "Stated Widman.
Taking second place was Marvin Maxwell of Tunnel Hill, IL. Maxwell brought in three fish that weighed in at 9.66 pounds. His three-fish earned him a check for $400.
"I focused on fishing shallow water throwing a Rat-L-Trap around secondary points" stated Maxwell.
Claiming third was Todd Haynes of Philpot, Ky with a three-fish limit that locked in the scales at 9.61 lbs. Todd took home $300 for his efforts.
The Tennessee Valley JR Bass Club came out and helped during the weigh in. They put water on the fish and toted them to the release boat for the anglers. A big thank you goes out to them for all their help.
The next event in the Kentucky Division is slated for June 23rd, 2018 on Kentucky Lake, launching from the Kentucky Dam Marina.
About American Bass Anglers: American Bass Anglers is committed to providing low cost, close to home tournaments for the weekend angler and at the same time offer each competitor an upward path for individual angler progression. For more information about American Bass Anglers, the Open Series, the American Fishing Tour or the American Couples Series, visit www.americanbassanglers.com.
American Bass Anglers Inc. is supported by Triton Boats, Mercury Outboards, Geico, Berkley,ABU Garcia, T-H Marine, Livingston Lures, Best Western Hotels, Maui Jim, Garmin, Sirius XM Marine weather and Optima Batteries.
American Bass Anglers can be contacted at (256) 232-0406 or by visiting americanbassanglers.com