Smith Wins at Lake Toho

Jeremy Smith of Plant City, FL won the American Bass Anglers Ram Truck Open Series Florida Central Division tournament, held May 20th on Lake Toho.
Running out of Lakefront Park in Kissimmee, FL Smith caught five bass weighing 26.68 pounds. For the Boater Division victory, he took home a check for $5000.
"I caught most of my fish today on a Rat-L-Trap one knocker and a worm. The place I started this morning I was not expecting to catch what I caught there. I probably had 20ibs in the boat by 8:00am. The bite was on fire. I ran around a little bit and culled up a few times. I was fishing hydrilla out in open water with a 3/4oz Rat-L-Trap in a color that I don't even know. I just bought it the other day and it was the only one I have. I was fishing it on 12lb monofilament. I am excited and glad my family was here to support me today." Smith said.
In second for the boaters, Thadeus Ragan of West Park, FL landed a five-bass tournament limit going 23.05 pounds. He collected $1250 for his catch.
"I didn't even crank up the big motor. I just started fishing a popping frog. It was slow but steady. I had a few good bites and here I am. I probably caught twenty fish today. I had to work the fish today. They would swirl around the frog and I would have to trick them into eating it. A friend of mine past away recently, Linda Robinson, I was trying to win it for her. She was my partner in many tournaments." Ragan said.
Darrell Cranor of Lakeland, FL landed five bass going 21.74 pounds anchored by a monster 11.54-pound kicker. He collected $900 for his catch and $650 for the big bass.
"I caught all my fish today out in open water hydrilla fishing grass lines. I caught that big bass on a top water chugger bait. It was about11:30am and when she bit, it sounded like a cement block hitting the water." Cranor said.
In fourth place among the boaters, Raymond Trudeau of Saint Cloud, FL brought in five bass for 20.40 pounds.
Bobby Wooten of Lithia, FL finished in fifth place with five bass at 19.95 pounds.
In the Co-Angler Division, Tom Mullins of Windermere, FL won with three bass going 14.91 pounds with a 6.09 -pound kicker. He pocketed a check for $1700 for his win.
"I was basically finished by 11:00am. I mean I was really finished, just worn out. We flipped all day. I had good solid bites and never lost any fish today. We were targeting grass lines and I was flipping a creature bait with a 5/8oz weight. I'm real thrilled to win $1700 and I'm proud to be a part of this. I want to thank my boater, John Adkinson, for putting me on the fish today. We had a wonderful time today and he was very helpful." Mullins said.
Taking second for the co-anglers, Glenn Cale of Auburndale, FL brought in a three-bass division limit weighing 13.89 pounds anchored by a 5.78-pound kicker. He collected $650 for his catch.
"I was fortunate to draw out with Darrell Cranor today and net that big 11.54-pounder for him. I fished a Senko and a Rat-L-Trap and I just followed his lead today and I'm just grateful for him. These boaters come out and spend their time and money practicing and we come out as co-anglers and fish the back of the boat for fun and I was fortunate enough and blessed to catch a few good fish. I want to give thanks to Darrell Cranor, I had a great time today. It's always great to cash a check and catch fish and we caught a bunch of fish today. Darrell is a class act guy." Cale said.
Eric Andrews of Davenport, FL placed third among the co-anglers with three bass 13.87 going pounds. He earned $450 for his catch.
"I fished out in the middle of the lake and I threw a chatter-bait all day targeting grass lines and scattered grass." Andrews said.
In fourth place among the co-anglers, Kyle Jones of Leesburg, FL brought in three bass for 11.96 pounds.
Arthur Jackson of Kissimmee, FL finished in fifth place with three bass at 11.80 pounds.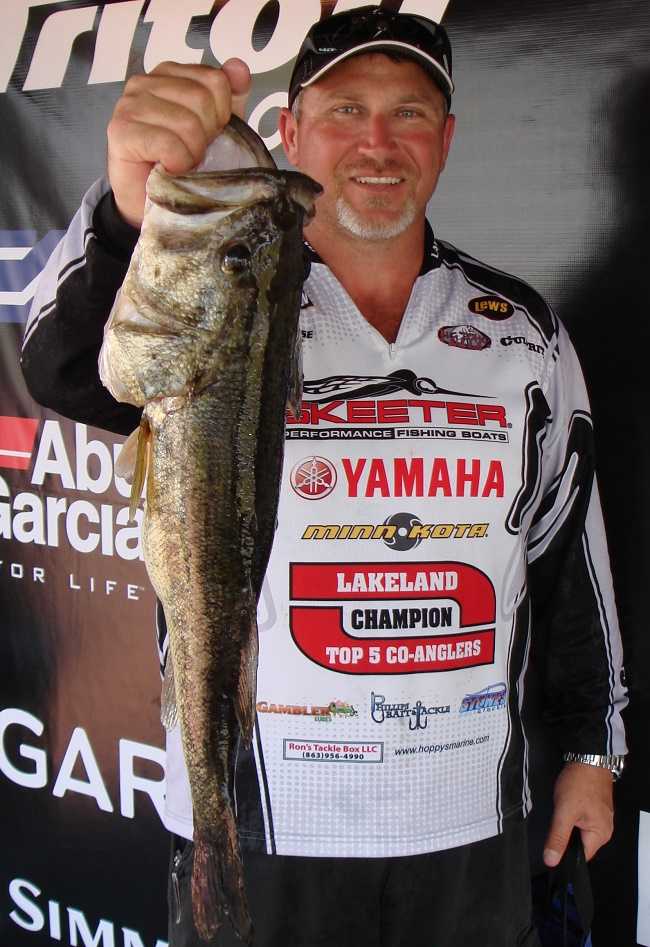 Michael Morse of Plant City, FL collected $300 for the Co-Angler big bass that weighed 7.49 pounds.
"I caught the big fish on a Gambler Big EZ fishing pepper-grass. I kept getting bit by gar and they would tear up the tail constantly. I was reeling slow to get the gar to stop biting and my line got real heavy. I pulled up on her and she pulled back and it was on. I thought she was bigger than she was when she came out of the water. I caught her around 10:30am this morning. " Morse said.
Slated for September 16th & 17th, the next tournament will be the Area Championship held on Lake Okeechobee out of Scott Driver park in Okeechobee, FL. At the end of the season, the best anglers from across the nation advance the 2018 Ray Scott Championship to be held on the Red River in Shreveport, Louisiana.
For more information on this tournament, call Billy Benedetti, tournament manager, at 256-230-5632 or ABA at 256-232-0406. On line, see www.ramopenseries.com .
About American Bass Anglers: American Bass Anglers is committed to providing low cost, close to home tournaments for the weekend angler and at the same time offer each competitor an upward path for individual angler progression. For more information about American Bass Anglers, the Ram Truck Open Series, the American Fishing Tour or the American Couples Series, visit www.americanbassanglers.com.
American Bass Anglers, Inc. is supported by Ram Trucks, Triton Boats, Mercury Outboards, Carlisle Tires, GEICO, Berkley, Abu Garcia, T-H Marine, Livingston Lures, Best Western Hotels, Maui Jim, Power Pole, LiT Coolers, Simms, Garmin, and Divide-It. American Bass Anglers, Inc. can be contacted at (256) 232-0406 or by visiting americanbassanglers.com