Robertson Takes Home Another Win on Kentucky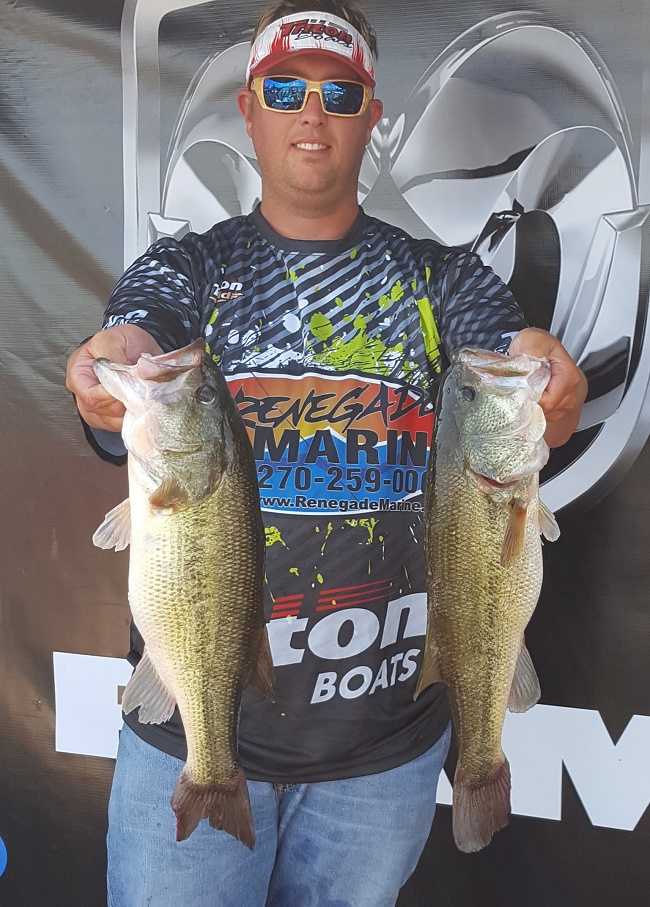 Matthew Robertson of Kuttawa, KY won the American Bass Anglers Ram Truck Open Series Kentucky tournament, held March 18, 2017 at Lake Kentucky Lake.
Running out of Moors Resort in Gilbertsville, KY, Robertson caught five bass weighing 25.20 pounds with a 5.42 - pound kicker. He took home $5,000 for his efforts. He also will take home an additional $500 from Triton Boats for being in the Triton Gold program as well as $500 from Mercury marine.
"I caught my fish today flipping a 3/25 ounce jig flipping bushes. Thanks to Drew Boggs, I tied on bigger line so that I would stop breaking my line when pulling the bass out. I caught fish all day long," Robertson said.
In second for the boaters, David Young of Mayfield, KY. He landed a five-bass tournament limit going 20.01 pounds. He collected $600 for the effort.
"I caught my fish today flipping a jig. I was targeting bushes that was in the flooded areas of the lake," stated Young.
Shawn Perrigo took third for the boaters with five bass going 19.35 pounds taking home $475.
"I caught m fix today using a Strike King 10XD. I was fishing river ledges all day long, I caught a lot of fish and has a really good day," said Perrigo.
Drew Boggs of Lebanon, TN, took fourth place with a weight of 18.95 pounds.
David Seaton of Buchanan, TN took fifth with a five bass limit going 16.51 pounds.
The biggest bass for the boaters was caught by: Joey Schmidt that weighed 5.51 pounds and pocketed $420.
In the Co-Angler Division, Steve Freeman of Eddyville, KY won with three bass going 13.05 pounds. He sealed his victory with a 5.86-pound kicker to pocket a check for $1,200.
"I caught my fish today flipping a jig. We fished bushes, lay downs, just about anything we could. We went over to Barkley today and caught fish all day long. I had about 10 keepers total so it was a good day," Freeman said.
Taking second for the co-anglers, Greg Horner of Knoxville, TN brought in a three-bass division limit weighing 12.36 pounds including a 5.90-pound kicker. He collected $400 for the effort.
"I caught my fish today flipping bushes early in the morning. I was using a green pumpkin brush hog," stated Horner.
Clay Holland of Bardwell, KY placed third among the co-anglers with three bass going 11.23 pounds including a 4.47 pound kicker and earned $350.
"I used a brush hog today to catch my fish. My boater an I was targeting ledges. I caught my fish early in the day, after that it slowed down," stated Holland.
In fourth place among the co-anglers, David Widman of Mount Washington, KY, he brought in three bass for 10.65 pounds.
Dan Basham of Taylorsville, KY finished in fifth place with three bass at 10.51 pounds.
The biggest bass for the co-anglers was caught by: David Widman that weighed 6.62 pounds and pocketed $170. He will also take home a new ABU Garcia Revo Spinning Reel for catching the biggest bass of the event using and ABU Garcia Reel.
Slated for August 26, 2017 the next divisional tournament will be held on Kentucky Lake launching out of Paris Landing State Park in Buchanan, TN. At the end of the season, the best anglers from across the nation advance the 2018 Ray Scott Championship.
For more information on this tournament, call Kristin Malott, tournament manager, at 256-771-3709 or ABA at 256-232-0406. On line, see www.ramopenseries.com .
About American Bass Anglers: American Bass Anglers is committed to providing low cost, close to home tournaments for the weekend angler and at the same time offer each competitor an upward path for individual angler progression. For more information about American Bass Anglers, the Ram Truck Open Series, the American Fishing Tour or the American Couples Series, visit www.americanbassanglers.com.
American Bass Anglers, Inc. is supported by Ram Trucks, Triton Boats, Mercury Outboards, Carlisle Tires, GEICO, Berkley, Abu Garcia, T-H Marine, Livingston Lures, Best Western Hotels, Maui Jim, Power Pole, LiT Coolers, Simms, Garmin, and Divide-It. American Bass Anglers, Inc. can be contacted at (256) 232-0406 or by visiting americanbassanglers.com