Fitts Wins on Toledo Bend
Alan Fitts of Hemphill, Texas won the American Bass Anglers Ram Truck Open Series Louisiana tournament, held February 25th on Toledo Bend Reservoir.
Running out of Cypress Bend Park near Many, Louisiana, Alan caught an astonishing five fish limit weighing 28.88 pounds anchored by a beautiful 9.79 pound bass. For the Boater division victory, Fitts took home a check for $5000.
"It was an interesting day," Fitts said. "I was on a good bite up North and had some fish located, but I came across the lake this morning before we launched and I knew it was going to be a rough ride. When we took off and headed North we made it a couple miles until we cleared the Island and I changed my mind. It was rough up there. I went with a gut instinct, turned around, and went to a couple spots that I had not been to in over a year. It turns out there was a whole lot of luck because that's where I caught both of my big fish. I caught my fish on a Talon football jig, but I can't tell you the color because it doesn't have a name yet? It's something we threw together and it turned out to be a good combination. The bite was tougher than it had been due to the cold front last night and the wind, but the big girls are ready to be caught." Fitts said.
In second for the Boaters, Jarrett Latta of Cedar Park, Texas landed a five-bass limit going 23.02 pounds. His bag was anchored by a 7.36 kicker. He collected $800 for the effort. "I sight fished all day today. I should have prepared for this a little better. I had some pinpointed on beds but all of them were exposed to the wind. It messed things up a bit and I had to go searching for some that were a little more protected and we lucked out. I have another tournament I am entering tomorrow so maybe I can go out again and be able to get the rest of them." Jarrett said.
Nick LeBrun of Bossier City, Louisiana took third for the Boaters with five bass going 20.01 pounds to earn $600. "We just went fishing." Said Nick. "I went to an area of the lake I knew that fish were there and flipped some hay grass. We caught some chunkin and winding too I wish there was about 2-3 more feet of water because the ones we caught had just enough depth to keep their backs wet. We caught a lot of fish but had to go through them to get the quality keepers." said LeBrun.
In fourth, Derrick Mong of Many, Louisiana came in with 19.67 pounds.
Finishing fifth place was Billy Cline of Grapevine, Texas with 19.62 pounds.
The biggest bass for the Boaters was caught by Allen Fitts of Hemphill, Texas that weighed 9.79 and Allen pocketed $500.
In the Co-Angler division, John Barrera of Milam, Texas won with three bass going 12.72 pounds. He sealed his victory with a 6.10-pound kicker to pocket a check for $1200.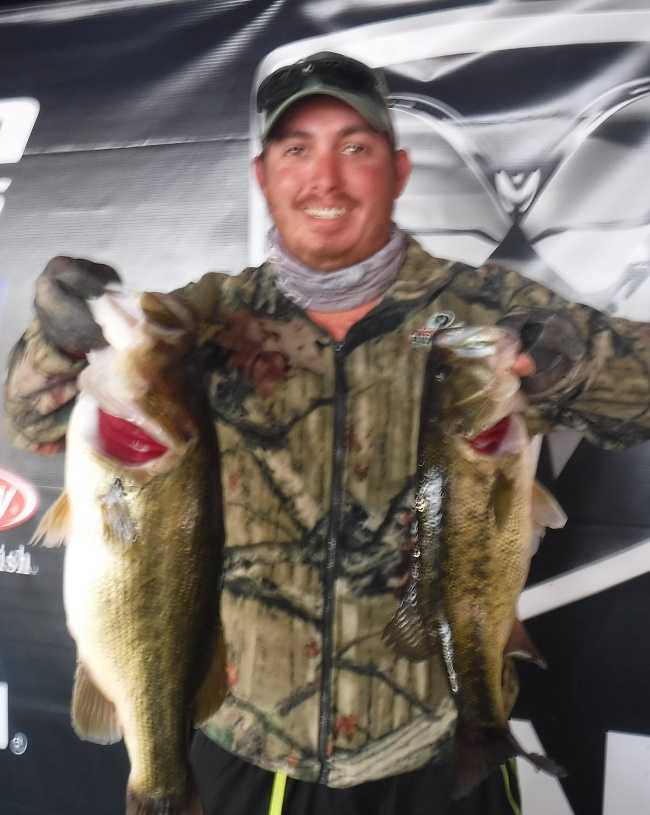 "Well it started out a little different. My boater told me he had some fish up North so when you called our boat number this morning that's where we headed and I was ready. I had found some fish earlier in the week on the South end of the lake. Once we got around the island and saw how rough it was we shut down and he asked me if I think we could get bit where my fish were, so off we went. We both caught fish, I was just able to get the right bites. I had between 12-15 fish and culled up to what I brought in. Anytime you come out with a win is a great day," Barrera said.
Taking second for the Co-Anglers, Justin Bailey of Farmerville, Louisiana brought in a three-bass division limit weighing 8.52 pounds. He collected $275 for the effort. "I caught all my fish on a drop shot and a Carolina rig in 7-10 feet of water. We targeted that depth mainly all in some stumps. We caught fish pretty much everywhere we went. I caught about 6 fish, my boater had about a dozen. It was a good day and I had a lot of fun." Bailey said.
Jeffrey Grubbs Sr. of Goodrich, Texas placed third among the Co-Anglers with three bass going 8.27 pounds to earn $225. "I can't say too much because I was with Alan Fitts today and you already know most of what we did. We were shallow. Oh yeah, did I mention we were shallow? LOL. We went up North at first, turned around and came back south, and you know the rest of the story. I was able to catch a few in between netting his fish. I'm just playing, we had a great day. I was able to cull 3 times, Alan is a super guy and knows this lake very well. I was very fortunate to be witness to it all." Grubbs said.
In fourth place among the Co-Anglers, Doron Pardo, the furthest traveled angler from Phoenix, Arizona brought in three bass weighing 8.23 pounds.
Chris Pearson of Marthaville, Louisiana finished in fifth place with three bass at 8.22 pounds.
The biggest bass for the Co-Anglers was caught by John Barrera at 6.10 pounds, John took another check for $180 for his fish.
Slated for March 11th, the next divisional tournament will be held on Bayou Black, at Bob's bayou Black near Gibson, LA. At the end of the season, the best anglers from across the nation advance to the 2018 Ray Scott Championship, slated for an undetermined location.
For more information on this tournament, call Chris Wayand, tournament manager, at (256)230-5627 or ABA at (256)232-0406. On line, see www.ramopenseries.com .
American Bass Anglers is committed to providing low cost, close to home tournaments for the weekend angler and at the same time offer each competitor an upward path for individual angler progression. For more information about American Bass Anglers, the Ram Truck Open Series, the American Fishing Tour or the American Couples Series, visit www.americanbassanglers.com.
American Bass Anglers, Inc. is supported by Ram Trucks, Triton Boats, Mercury Outboards, Carlisle Tires, GEICO, Berkley, Abu Garcia, T-H Marine, Livingston Lures, Best Western Hotels, Maui Jim, Power Pole, LiT Coolers, Simms, Garmin, and Divide-It. American Bass Anglers, Inc. can be contacted at (256) 232-0406 or by visiting americanbassanglers.com