Butler Takes Home Victory at Guntersville
Josh Butler of Hayden, Alabama won the American Bass Anglers Ram Truck Open Series Area 1 Championship, held October 1st & 2nd on Lake Guntersville. Running out of Guntersville State Park, Butler caught ten bass weighing 36.60 pounds with a 4.92 pound kicker to take home a check for $10,000 as well as taking home a Simms Challenger rain suit.
"I caught my fish out deep. The fish are really moving so I had to make a lot of adjustments. Yesterday I was really fortunate. I found them grouped up hard and was able to catch them on a crank bait. Today slowed down a lot for me. I really had to finesse them more. I caught a few on a jig this morning. They were real scattered more today than yesterday making it a little tougher but I just grinded it out," stated Butler.
In second for the Boaters was Tim Van Polen of Guntersville, Alabama. Tim landed a total of ten bass weighing 33.42 pounds with a 7.05-pound kicker. He collected $2,000 for his effort. "I ran around a lot less today than I did yesterday. I was in grass that was 7 to 9 feet deep. I just picked it apart with a jig. I stuck with this both days, it was a grind but I was able to bring in limits," said Van Polen.
Josh Bragg of Jacksonville, Alabama took third for the Boaters with ten bass weighing 32.25 pounds earning $1,200. "I caught my fish up river on mats. I was throwing a frog all day. Today, was a lot slower than yesterday but I stuck with it. I tried a lot of different things on Friday but I decided to stick with the frog bite for the tournament and it seemed to have worked out," Bragg said.
Finishing fourth, Tony Tidwell of Horton, Alabama. He landed a ten-bass limit weighing 31.45 pounds.
Chris Webb rounded out the top five Boaters with ten bass weighing 31.27 pounds with a 7.39-pound kicker.
George Wells IV of Knoxville, Tennessee walked away with the Big Bass Title with a weight of 8.16 pounds and earning $770 for his effort.
In the Co-Angler Division, Davy Campbell of Delta, Alabama won with six bass weighing 17.57 pounds. He sealed his victory with a 3.53-pound kicker to pocket a check for $5,000 as well as taking home a Simms Challenger rain suit.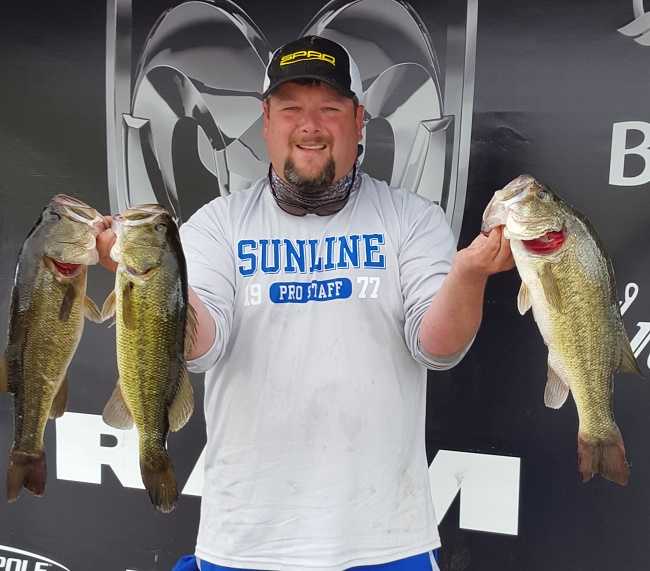 "Yesterday I drew a guy from Georgia, we ran up the river and caught them on a frog. Today, I also caught my fish on using a frog," Campbell said.
Taking second for the Co-Anglers, Toby Steele of Ten Mile, Tennessee brought in a total of five bass weighing 16.68 pounds topped off by a 4.56-pound kicker collecting $800 for the effort. "Yesterday, my boater stayed deep all day. Today, we fished shallow early and then we moved out deeper. I was fortunate enough to catch fish both days, I just couldn't get a good bite. I caught my fish using anything from a jig to drop shot," stated Steele.
Brennon Binkley of Franklin, Tennessee placed third among the Co-Anglers with four bass weighing 13.79 pounds with a 2.94–pound kicker to earn $500. "I used a frog both days on a Powell Rod and and Abu Garcia reel," Binkley stated.
In fourth place among the Co-Anglers, James Champion of Franklin, Tennessee brought in five bass weighing 10.76 pounds.
Mark Smith of Chattanooga, Tennessee placed fifth. He caught he caught four fish weighing 10.42 pounds.
Daniel Crockett of Old Hickory, Tennessee took home the big bass title with a weight of 4.92 pounds and a check for $290.
At the end of the season, the best anglers from across the nation advance the 2017 Ray Scott Championship, slated for Old Hickory Lake in Hendersonville, TN in April of 2017.
For more information on this tournament, call Kristin Malott, tournament manager, at (256)771-3709 or ABA at (256)232-0406. On line, see www.ramopenseries.com .
About American Bass Anglers: American Bass Anglers is committed to providing low cost, close to home tournaments for the weekend angler and at the same time offer each competitor an upward path for individual angler progression. For more information about American Bass Anglers, the Ram Truck Open Series, the American Fishing Tour or the American Couples Series, visit www.americanbassanglers.com.