Messer Wins on Old Hickory
Tim Messer of Hendersonville, Tennessee won the American Bass Anglers Ram Truck Open Series TN Central tournament, held August 27, 2016 on Old Hickory. Running out of Sanders Ferry Park in Hendersonville, TN, Mess caught four bass weighing 13.14 pounds to take home a check for $5,000 as well as taking home a Simms Challenger rain suit.
"I caught my fish on a worm in deep brush piles all day. I was not able to cull any today. I got four bites and they were just the lucky bites. I just fished slow using K9 flourocarbin 20-pound test with a ½ ounce Shakyhead Magnum with a Zoom Trick Worm," Messer Stated.
In second for the Boaters Adam Wagner of Cookeville, Tennessee landed a five-bass tournament limit weighing 12.50 pounds with a 4.32-pound kicker. He collected $1,078 for his effort. "I caught my fish today using a squarebill Bandit Crankbait. I caught fish all day long. I stayed in about 3 feet of water," Wagner stated.
Josh Tramel of Smithville, Tennessee took third for the Boaters with five bass weighing 11.82 pounds earning $719. "I caught my fish deep on a worm and shallow on a crankbait. Later in the day, the bite got tough, but all in all it was a good day," Tramel said.
Finishing fourth, Bryan Dowdy of Florence, Tennessee landed a five-bass limit weighing 11.16 pounds.
Drew Boggs of Lebanon, Tennessee rounded out the top five Boaters with five bass weighing 10.87.
Ken Reece of Brush Creek, Tennessee walked away with the Big Bass title with a weight of 5.21 pounds and earning $420.
In the Co-Angler Division, Chris Seese of Loudon, Tennessee won with three bass weighing 8.28 pounds. He sealed his victory with a 3.36-pound kicker to pocket a check for $915 as well as taking home a Simms Challenger rain suit.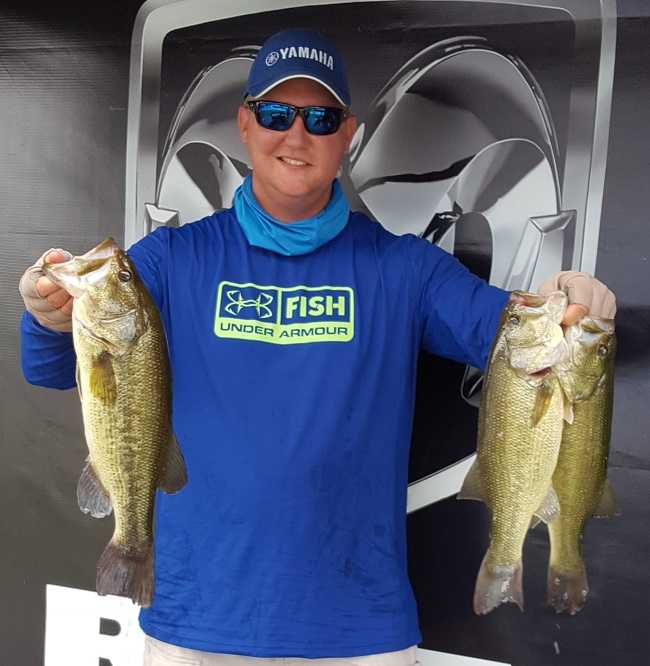 "I used a chatterbait and a peanut butter and jelly football jig to catch my fish today. I actually did not have any fish until the last hour of the event, so I'm happy with the three I weighed," said Seese.
Taking second for the Co-Anglers, Bill Bruce of Hendersonville, Tennessee brought in a three-bass limit weighing 7.21 pounds topped off by a 2.87-pound kicker collecting $336 for the effort. "I used a red worm to catch my fish today targeting wood all day. I had a great day, I probably caught about 25 fish all long," stated Bruce.
Dustin Childress of Chapel Hill, Tennessee placed third among the Co-Anglers with three bass weighing 7.03 pounds with a 3.00–pound kicker to earn $229. "I caught my fish today using a green pumpkin and blue jig flipping wood. We did this all day long. I didn't catch a fish until almost 11:00 o'clock and after that, I was able to cull twice," said Childress.
In fourth place among the Co-Anglers, Brennon Binkley of Franklin, Tennessee brought in three bass weighing 6.76 pounds.
John Cochran of Bryson City, North Carolina finished in fifth place with three bass weighing 6.28 pounds.
Lucas Rust of Heritage, Tennessee took home the Co-Angler Big Bass title with a weight of 4.72 pounds.
Slated for September 23rd and 24th, the next divisional tournament will be held on Kentucky Lake out of Paris Landing State Park in Paris, TN. At the end of the season, the best anglers from across the nation advance the 2017 Ray Scott Championship, slated for Old Hickory Lake in Hendersonville, TN in April of 2017.
For more information on this tournament, call Kristin Malott, tournament manager, at (256)771-3709 or ABA at (256)232-0406. On line, see www.ramopenseries.com .
About American Bass Anglers: American Bass Anglers is committed to providing low cost, close to home tournaments for the weekend angler and at the same time offer each competitor an upward path for individual angler progression. For more information about American Bass Anglers, the Ram Truck Open Series, the American Fishing Tour or the American Couples Series, visit www.americanbassanglers.com.