Kindle Takes Win on Tenkiller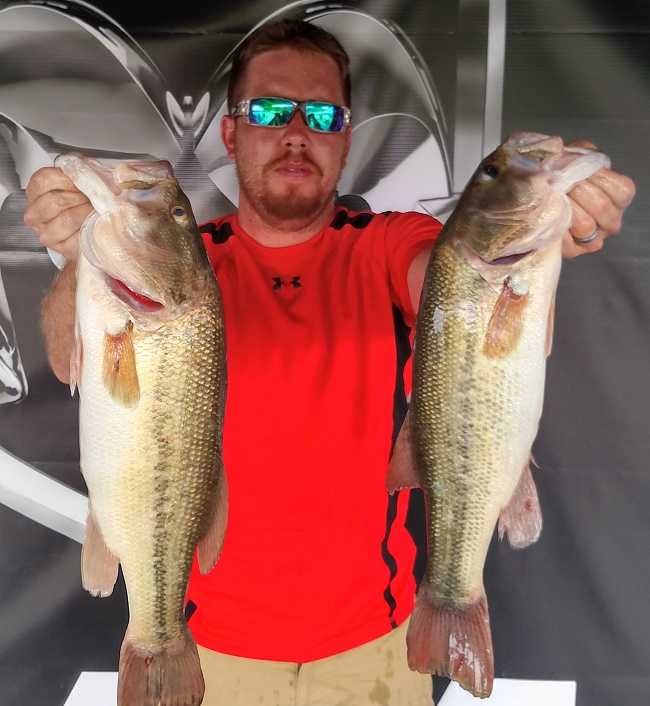 Lane Kindle of Stillwell, Oklahoma won the American Bass Anglers Ram Truck Open Series Oklahoma divisional tournament, held July 16th on Lake Tenkiller.
Launching out of Sizemore Landing near Park Hill, Lane caught five bass weighing 15.67 pounds including a 3.87-pound kicker. "We came in about 15 minutes early today," Kindle informed. "I caught the first 4 early in shallow water, then we went deep. I caught about 10 good keepers all day. Mostly I caught them shallow on a top-water." For the Boater division victory, Kindle took home a check for $5,000.
John Simonof of Jacksonville, Arkansas reeled in second place on the Boater side with a mixed bag limit weighing 15.47 pounds. "I went through a dozen keepers fishing a ½ oz vibrating jig on a Temple Fork Outfitters heavy action rod and Lew's reel spooled up with 20lb Hi-Seas Quattro fluorocarbon line. I fished in 2-4 feet of water and targeted chunk rock and pea gravel banks with deep water access close by. John pocketed $1,205 for his efforts plus $250 as the Triton highest finisher and $150 Leer Cover Cash.
Mitchell Webb of Skiatook, Oklahoma took home third for the Boaters with five bass weighing 15.43 pounds. "I was fishing in front of the Co-Angler winner over there, he showed me how to do it," explained Webb. "He caught them on top water this morning, and we stuck around there and got some bites." Mitchell earned $803.
Finishing fourth, Kevin Apple from Broken Arrow, Oklahoma landed a five-bass limit weighing 15.25 pounds. Kevin also caught the biggest bass for the Boaters weighing 5.39 pounds earning him an additional amount of $490.
Kirk Smith of Edmond, Oklahoma rounded out the top five Boaters with five bass weighing 15.24 pounds.
In the Co-Angler division, Dexter Scott of Park Hill, Oklahoma won with three bass weighing 11.22 pounds. He sealed his victory with a 4.95-pound kicker.
"I caught five fish all day. Three of them came from top water," Scott said. "Zera Spook bait worked for me today. The main three I caught were shallow and top water, the 2 bigger ones were a little deeper around 10 foot." Dexter pocketed a check for $1,500. Dexter also caught the biggest bass for the Co-Anglers weighing 4.95 pounds. He pocketed an additional $200 for his efforts.
Taking second for the Co-Anglers, Ian Isaacs of Moore, Oklahoma brought in a three-bass division limit weighing 10.44 pounds. "Just went out bouncing jigs all day and popping big worms," Isaacs explained. "I lost a few fish but was fishing deep so it worked out." He collected $502 for the effort.
Douglas Burchfield of Eufaula, Oklahoma placed third among the Co-Anglers with three bass weighing 8.99 pounds to earn $335. "It started out pretty fast," Burchfield stated. "Caught the first fish in 15 minutes. Most of them came in with a buzz bait and a Rico lure."
In fourth place among the Co-Anglers, Bill Wiles of Arcadia, Oklahoma brought in three bass weighing 8.07 pounds.
Levin Camp of Talihina, Oklahoma finished in fifth place with three bass at 7.52 pounds.
Slated for August 27th, the next and last divisional tournament will be held on Ft. Gibson Lake out of Taylor's Ferry North near Wagoner, Oklahoma. At the end of the season, the best anglers from across the nation advance to the 2017 Ray Scott Championship, slated for Old Hickory Lake in Hendersonville, TN in April of 2017.
For more information on this tournament, call Chris Wayand, tournament manager, at (256)230-5627 or ABA at (256)232-0406. Online, see www.ramopenseries.com.
American Bass Anglers is committed to providing low cost, close to home tournaments for the weekend angler and at the same time offer each competitor an upward path for individual angler progression. For more information about American Bass Anglers, the Ram Truck Open Series, the American Fishing Tour or the American Couples Series, visit www.americanbassanglers.com.