Sanders Wins on West Point
Curtis Sanders of Guyton, Georgia won the American Bass Anglers Ram Truck Open Series Georgia division tournament, held June 25th on the West Point.
Running out of Pyne Road Mega Ramp near LaGrange, Curtis caught five bass weighing 14.92 pounds. "I caught all my fish Texas rigging soft plastics up the river all the way to Franklin. I was targeting wood lay-downs and blow-downs. It was a better morning bite but the larger fish came later in the day." Sanders said. For the Boater Division victory, Sanders took home a check for $5,000.
In second for the Boaters, Rick Chavez of Newnan, Georgia landed four bass weighing 14.76 pounds with a 5.67-pound kicker. "I lost one fish today and all I needed was a 12 inch spot. I caught all my fish flipping brush piles." Chavez said. He collected $1,158 for the effort.
Jay Carter of Warner Robins, Georgia took third for the Boaters with five bass weighing 12.96 pounds. He earned $772 for his efforts. Jay also caught the Big Bass for the Boaters weighing 6.21 pounds. He collected an additional $520.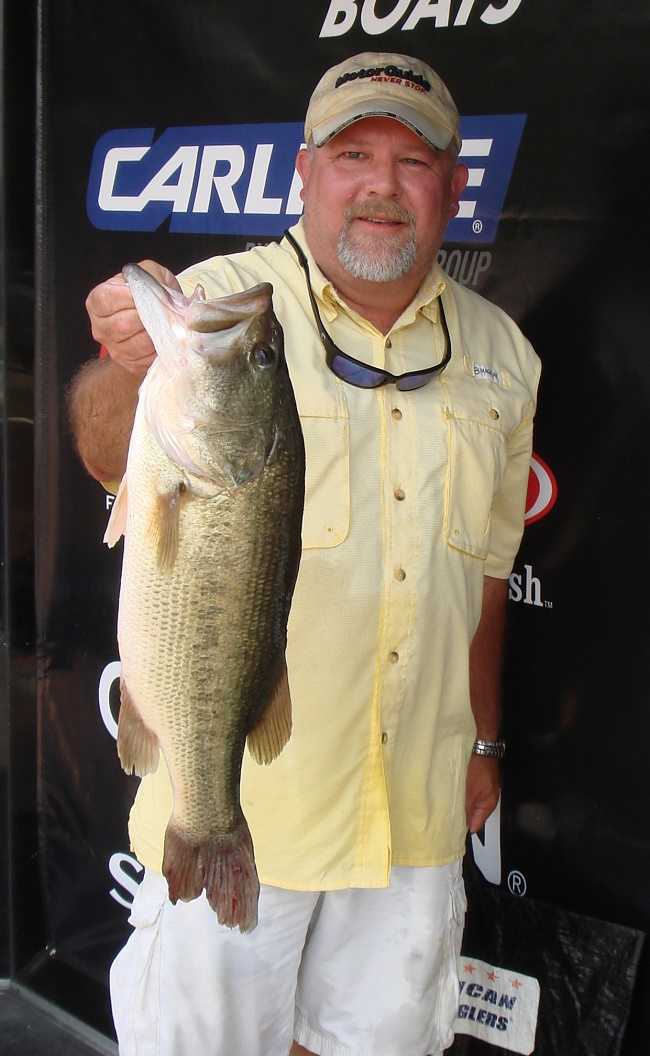 Finishing fourth, Wade Sieck of Smith Station, Alabama landed a five-bass limit weighing 12.85 pounds.
Patrick Fisher of Colbert, Georgia rounded out the top five Boaters with five bass weighing 12.56 pounds topped by a 3.19-pound kicker.
In the Co-Angler Division, Jim English of Gordon, Alabama won with three bass weighing 10.81 pounds. He sealed his victory with a 4.81-pound kicker.
"We fished upper lake, junk fishing, we threw everything but the kitchen sink. It was rough the entire day but the better fish came later on isolated wood." English said. He pocketed a check for $1,470.
Taking second for the Co-Anglers, Ricky McClain of Sharpsburg, Georgia brought in a three-bass division limit weighing 9.92 pounds with a 5.80-pound kicker.
"We fished mid-lake and I threw a swim jig across a point. We saw some fish schooling a little earlier and I was just lucky to get a limit today. My boater struggled today, I'd like thank him though." McClain said. He collected $504.50 for the effort. Ricky also the Big Bass for the Co-Anglers weighing 5.80 pounds. He collected an additional $185.
Les Charles of Albany, Georgia placed third among the Co-Anglers with three bass weighing 8.98 pounds, including a 5.04-pound kicker. He earned $336.50.
In fourth place among the Co-Anglers, William Whitmire of Dawsonville, Georgia brought in three bass weighing 8.13 pounds.
Timothy Woods of Midville, Georgia finished in fifth place with three bass at 6.31 pounds.
Slated for September 17th & 18th, the next tournament will be the two-day Area Championship held on Lake Eufaula out of Lake Point Resort State Park near Eufaula, AL. At the end of the season, the best anglers from across the nation advance the 2017 Ray Scott Championship, slated for Old Hickory Lake in Hendersonville, TN in April of 2017.
For more information on this tournament, call Billy Benedetti, tournament manager, at (256)230-5632 or ABA at (256)232-0406. On line, see www.ramopenseries.com.
About American Bass Anglers: American Bass Anglers is committed to providing low cost, close to home tournaments for the weekend angler and at the same time offer each competitor an upward path for individual angler progression. For more information about American Bass Anglers, the Ram Truck Open Series, the American Fishing Tour or the American Couples Series, visit www.americanbassanglers.com.