$5000 Payday for Evans at Lake Eufaula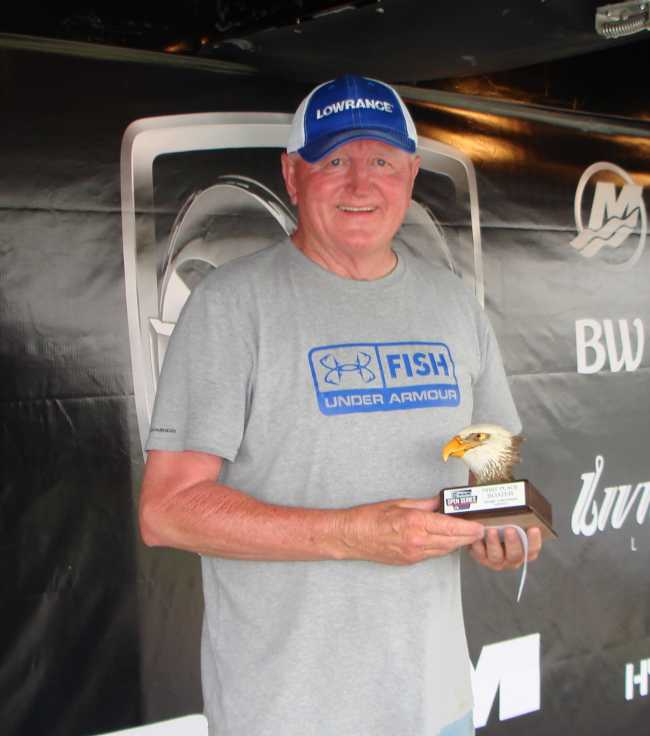 Marty Evans of Peachtree City, GA won the Georgia Division Ram Truck Open Series event at Lake Eufaula on April 30, 2016. Evans brought in a 14.34 pound limit to win $5000. "I was fishing up the river, just a little ways. I caught them on a Rico early and a Baby Brush Hog in the afternoon. Those were the only five I caught today," said Evans.
Mike L. Chester of Warner Robins, GA finished in second place with 14.28 pounds at the Eufaula event winning $1307. "I was using a frog in Cowikee Creek all day," said Chester.
Third place at the Eufaula event went to Tim Peek of Senoia, GA with 14.21 pounds winning $871. "I went up the river to where I caught a bunch of fish yesterday on a frog. After three hours, I didn't have a bite. So, I came back down to the lake and just fished hard. I caught them on four different baits. It was just a hard day," said Peek.
Jay Carter of Warner Robins, GA caught the 6.19 pound Boater Big Bass of the event to win a total of $959 for ninth place and the Big Bass Pot. Carter's Big Bass came from a brush pile in 12 feet of water on a Carolina rig.
Top Five Boaters:
1. Marty Evans 14.34 $5000
2. Mike Chester 14.28 $1307
3. Tim Peek 14.21 $871
4. Jay Grogan 13.40 $610
5. Tim Vanegmond 12.85 $523
There were 61 boaters registered for this Ram Truck Open Series event.
Ronald J. Parker of Brunswick, GA was the co-angler champion of the Ram Truck Open Series event held on April 30, 2016 at Lake Eufaula. Parker's 7.39 pound limit was worth $1565. This is Parker's second win in a row. He also won the February 27 event at Lake Sinclair. "We started off not too far from the ramp and caught a bunch of short fish on a spinnerbait. About noon, I finally got my first keeper. We started making our way back and I managed to get two more. Two of my fish were on a Texas-rigged watermelon candy worm and one on a spinnerbait," said Parker.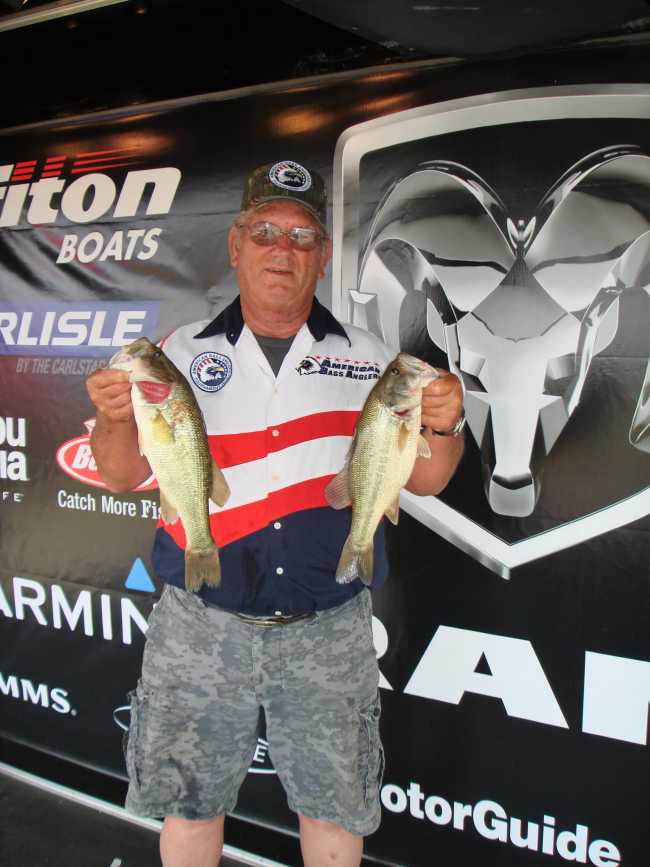 Phillip J. Johnson of Griffin, GA finished in second place on the co-angler side with 6.52 pounds to win $528. "It was slow at first. We finally moved out mid-lake and caught a few fish on brush piles and channel bends with a Texas-rigged lizard," said Johnson.
Sam P. Fish of Alexander City, AL brought in 6.01 pounds to finish in third place and win $352. "My boater's trolling motor went out about 10:00 this morning. We had to fish the rest of the day with no trolling motor, but we managed to catch some quality fish on a Carolina rig," said Fish.
Co-angler Big Bass honors went to Dennis Gaddy of Hogansville, GA with a 4.34 pound largemouth bass worth $215 from the Big Bass Pot. Gaddy caught his Big Bass on a Texas-rigged Zoom Ol' Monster worm in about two feet of water.
Top Five Co-anglers:
1. Ronald Parker 10.42 $1600
2. George Haynie 8.89 $540
3. Kenneth Morrell 8.38 $360
4. Buddy Laster 7.83 $252
5. William Whitmire 7.76 $216
There were 42 co-angler entries for this Ram Truck Open Series event.
Complete results can be found at this link.
Year to date points standing for the Georgia division can be found at this link.
For more info on the Georgia division of the Ram Truck Open Series visit www.ramopenseries.com call ABA tournament manager, Billy Benedetti, at (256) 230-5632. The next event in this division is on June 25, 2016 at West Point Lake.
Ram Truck Open Series anglers can take advantage of the "no boat on boat draw" format along with huge payouts for the 2016 season. First place boaters can win a guaranteed $5000 first place, regardless of number of entries. Payouts will increase to $6000 for the first place boater with a 100 boat field. Over the course of four divisional events and the area championship, anglers will be competing for a spot in the 2017 Ray Scott Championship.
Lots of contingency money is up for grabs during the 2016 Ram Trucks Open Series Series season. Anglers participating in the Triton Gold program can earn up to $7,000 at 2016 divisional events and up to $50,000 at the 2017 Ray Scott Championship. Anglers can also take advantage of other programs such as T-H Marine Atlas Rewards, Power Pole Captain's Cash, Garmin Grand Giveaway, Livingston Lures Cash for Big Bass, Abu Garcia Revo Big Bass Bonus, Maui Jim Bonus, and Mercury/Motorguide bonus money.
American Bass Anglers, Inc. is supported by Ram Trucks, Triton Boats, Mercury Outboards, Carlisle Tires, GEICO, Berkley, Abu Garcia, T-H Marine, Hydrowave, Livingston Lures, Best Western Hotels, Maui Jim, Power Pole, Dr. Dan's, Garmin, and Simms Bass. American Bass Anglers, Inc. can be contacted at (256) 232-0406 or by visiting americanbassanglers.com.