Messer Takes Home Co-angler Trophy at Alabama South Event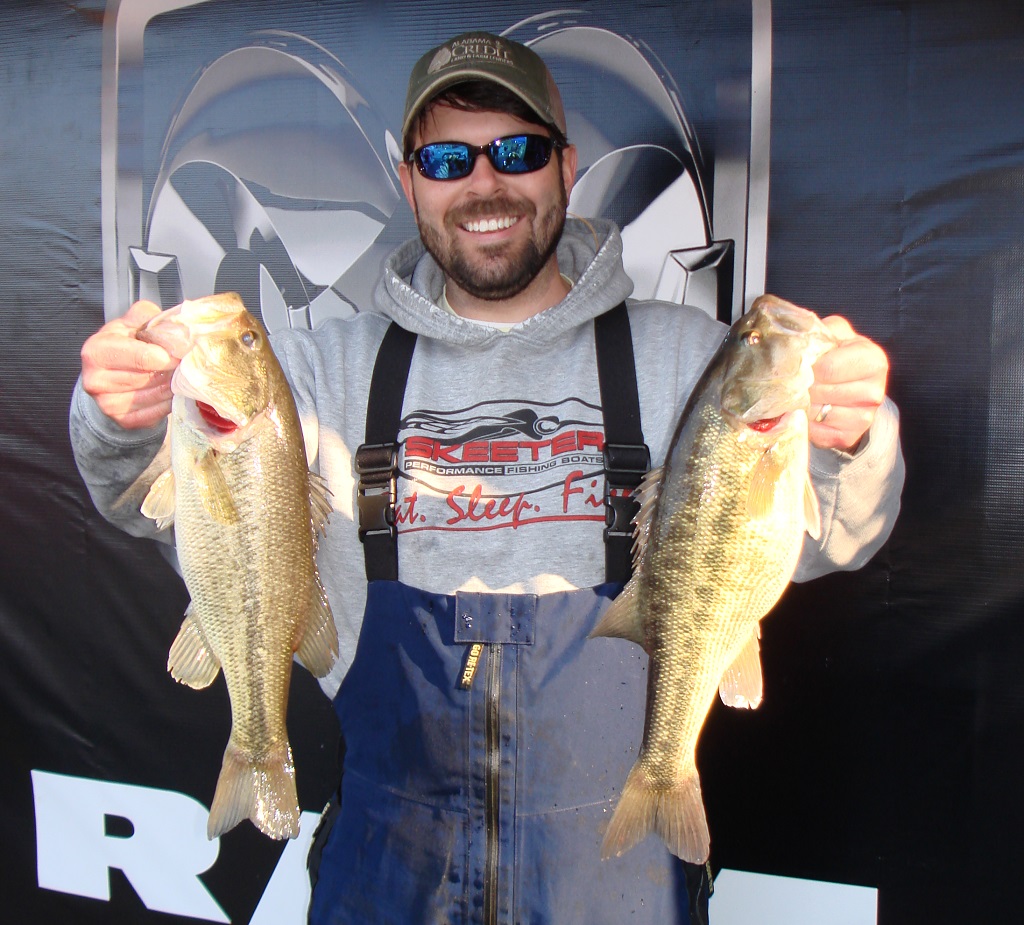 Clay Messer of Auburn, AL was the co-angler champion of the Ram Truck Open Series event held on February 6, 2016 at Lake Mitchell. Messer's 8.59 pound limit was worth $1110. "We fished the south end and caught them on a crankbait. I was just banging wood, rocks, and deep points. Luckily, my boater was around some fish. I lost a couple, but I was able to put three in the boat," said Messer.
Steve Miles of Clanton, AL finished in second place on the co-angler side with 7.47 pounds to win $398. "I lost some fish today. Most of my fish were on a Shakey Head. We pretty much fished mid-lake to the ramp. My boater was fantastic and I really appreciate it," said Miles.
Donnie Perkins of Eufaula, AL brought in 7.45 pounds to finish in third place and win $266. "I broke off a lot today and lost three or four good ones. Two of my keepers were on a Rat-L-Trap, ripping it through some grass. My other keeper came on a Strikezone Lures jig off of a bluff wall," said Perkins.
Richard C. Hudson of Ramer, AL brought in the 3.66 pound Co-angler Big Bass of the day to win $130 from the Big Bass Pot. "I was fishing on the lower end and I caught the Big Bass on a swimbait around 8:30 this morning," said Hudson.
Top Five Co-anglers:
1. Clay Messer 8.59 $1110
2. Steve Miles 7.47 $398
3. Donnie Perkins 7.45 $266
4. Richard Hudson 7.27 $316
5. Justin Girdner 6.73 $160
There were 27 co-angler entries for this Ram Truck Open Series event.
Complete results can be found at this link.
For more info on the Alabama South division of the Ram Truck Open Series visit www.ramopenseries.com call ABA tournament manager, Billy Benedetti, at (256) 230-5632.
Ram Truck Open Series anglers can take advantage of the "no boat on boat draw" format along with huge payouts for the 2016 season. First place boaters can win a guaranteed $5000 first place, regardless of number of entries. Payouts will increase to $6000 for the first place boater with a 100 boat field. Over the course of four divisional events and the area championship, anglers will be competing for a spot in the 2017 Ray Scott Championship.
Lots of contingency money is up for grabs during the 2016 Ram Trucks Open Series Series season. Anglers participating in the Triton Gold program can earn up to $7,000 at 2016 divisional events and up to $50,000 at the 2017 Ray Scott Championship. Anglers can also take advantage of other programs such as T-H Marine Atlas Rewards, Power Pole Captain's Cash, Garmin Grand Giveaway, Livingston Lures Cash for Big Bass, Abu Garcia Revo Big Bass Bonus, Maui Jim Bonus, and Mercury/Motorguide bonus money.
American Bass Anglers, Inc. is supported by Ram Trucks, Triton Boats, Mercury Outboards, Carlisle Tires, Berkley, Abu Garcia, T-H Marine, Hydrowave, Livingston Lures, Best Western Hotels, Maui Jim, Power Pole, Dr. Dan's, Garmin, Simms Bass, and GEICO. American Bass Anglers, Inc. can be contacted at (256) 232-0406 or by visiting americanbassanglers.com.